US National Tour Makes It's Cincinnati premiere at
THE ARONOFF CENTER, OCTOBER 29 – NOVEMBER 10, 2013.
This fall, the Aronoff has had a, like, out-of-sight 80's-tastic lineup.
Last time I was able to check out Ghost and on-stage now is cult classic, Flashdance. I will again confess that it had been quite a while since I'd watched the movie, but I think that actually served to my advantage. Instead of trying to compare storyline or meet a checklist, I was able to sit back and thoroughly enjoy myself (and I definitely enjoyed myself!).
As soon as I arrived at the Aronoff on the opening night of Flashdance, I was immediately directed to a totally rad photo booth opportunity. Seriously folks, they have leg warmers, head bands, and wrist bands so you can take your own righteous "chair and water bucket" pic!!! EEK! And yes, I totally did. I'm waiting on my casting call 😉
Since I was born at the turn of the 80's decade, I was completely dorking out over the legit 80's elements in this musical. Big hair on the ladies (holy bangs, batman!), the female mullet (it was even spiky!!), acid washed jeans, neon, leather bomber jackets, and those classy track suits are only a small snippet of the tubular authentic 80's that you will behold.
While the musical performances in Flashdance are totally bad to the bone, my favorite aspect of the musical was the dancing – it definitely lives up to its title! There's even break dancing!! The entire ensemble was incredibly talented and lead Jillian Mueller as Alex is mesmerizing. I couldn't take my eyes off of her. She would dance her brains out and then turn right around and sing as though she wasn't even winded! As a singer and former dancer myself, I know what a feat this is. That's right folks, come for the dancing you know to expect and stay for the radical music performances.
You don't want to miss Flashdance and your chance to enjoy the bodacious performances of the entire cast!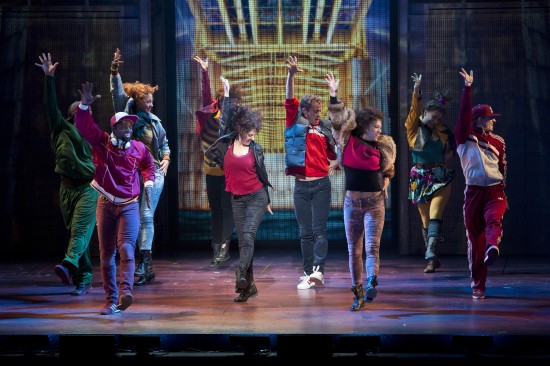 "Celebrating its 30th Anniversary, the pop culture phenomenon of FLASHDANCE is now live on stage. With electrifying dance at its core, FLASHDANCE – THE MUSICAL tells the inspiring and unforgettable story of Alex Owens, a Pittsburgh steel mill welder by day and a bar dancer by night with dreams of one day becoming a professional performer. When romance with her steel mill boss threatens to complicate her ambitions, Alex learns the meaning of love and its power to fuel the pursuit of her dream.

FLASHDANCE – THE MUSICAL features a score that includes the biggest hit songs from the movie, including the Academy Award-winning title song "Flashdance – What a Feeling," "Maniac," "Gloria," "Manhunt," and "I Love Rock & Roll." In addition to these hits, 16 brand new songs have been written for the musical with music by Robbie Roth and lyrics by Robert Cary and Robbie Roth.

FLASHDANCE-THE MUSICAL features a book by Tom Hedley (co-writer of the original screenplay), and Robert Cary with direction and choreography by Sergio Trujillo (Jersey Boys, Memphis)."

*This show contains some mature content that may not be suitable for all audiences.

FLASHDANCE – THE MUSICAL, the stage adaptation of the 1983 hit film that defined a generation, will perform at the Aronoff Center, October 29 – November 10, 2013 as part of the Fifth Third Bank Broadway in Cincinnati 13/1 Season.

Tickets will go on sale Friday, September 6 at 9AM.

Ticket prices start at $28 and will be available at the Aronoff Center Box Office downtown at 650 Walnut Street, online at CincinnatiArts.org or by phone at 513.621.ARTS. Group orders of ten or more may be placed by calling 513.369.4363.

I was provided complimentary tickets for review purposes.  All opinions are 100 percent mine.  It was a great show.