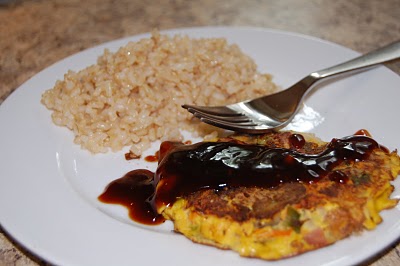 I made this dish the other night for dinner. I LOVED it! The kids and the hubby also enjoyed it – but I LOVED it. First of all, it has TONS of veggies in it, so that's always good. Plus it is a great egg recipe – and I will be needing a bunch of those in my recipe box because the chickens will be laying eggs soon! 🙂 I mostly used Rachel Ray's recipe.
8 eggs
1/4 pound thinly sliced ham, finely chopped
1 cup fresh bean sprouts, a few healthy handfuls
1/2 cup shredded carrots
1/4 pound

shitake

mushrooms, stemmed and thinly sliced
1 cup baby

bok

choy

, shredded
1 8-ounce can water chestnuts, drained and finely chopped
1/4 red bell pepper, very thinly sliced
1 bunch scallions, white and green, thinly sliced on an angle
1 inch fresh ginger root, peeled and grated, plus 2 thin slices
1 large clove garlic, grated or pasted
Salt and pepper
1 tablespoon cornstarch
1 cup chicken stock
1/4 cup

tamari

, aged soy sauce
Hot sauce, 1 teaspoon
Preheat a griddle pan over medium heat and brush it with some oil.
In a large mixing bowl, whisk the eggs then stir in ham, bean sprouts, carrots, mushrooms, bok choy, water chestnuts, bell pepper, scallions, grated ginger and garlic. Season with salt and pepper and mix until completely combined. Using a large spoon, drop about 1/2 cup of the mixture onto the preheated and oiled griddle. Cook like pancakes, about 2-3 minutes per side, until golden.
Meanwhile, combine cornstarch with a splash of chicken stock to dissolve. Place remaining stock, tamari, cornstarch, hot sauce and sliced ginger in a small pot. Thicken 3 minutes or so to coat a spoon. Remove sliced ginger and turn off heat.
Serve 2 Egg Foo Young cakes with gravy poured over the top per person.
It would also be really good with shrimp or chicken or tofu. I thought the ham was a strange choice at first- but when you eat it – it does seem right – eggs and ham always go together! Easy, yummy and a good way to get in tons of veggies! Cover anything with sauce and it's good! I made some delicious, nutty short grain brown rice to go with it. Even the left overs were great!